Remember that No-Ball by Jasprit Bumrah in the very start of the ICC Champions Trophy final match between Pakistan and India that secured Fakhar Zaman's wicket? That very same no ball will go down in history, at least for Bumrah.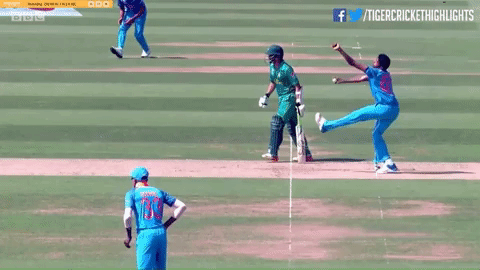 ---
The last thing on his mind would have been that the photos of him crossing the line being used by the traffic police to mock him.
The Jaipur police recently installed a new sign on a billboard that kind of in a way mocked the fast bowler as well as sent a message to the public, 'Don't cross the line, you know it can be costly'.
---
City Traffic Police Faisalabad used the same promotion
To educated and spread awareness to its citizens with a bit of humor added, the City Traffic Police Faisalabad quickly used the idea of Jaipur police.
---
Bumrah Responded to the ad on his Twitter
Bumrah started by slamming the authorities for doing a great job of showing respect to someone who gave their best for the country.
---
Then he fired back at the police by saying that he won't be making fun of the mistakes the police makes while at work because he believes humans can make mistakes.
---
Jaipur Police apologized to Bumrah
Jaipur Police quickly responded the Bumrah's tweets by apologizing and telling him that the intent was not to hurt him but to only create more awareness for traffic rules.
---